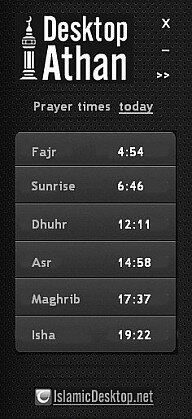 DesktopAthan is a FREE islamic application that calculates five daily salat times for anywhere in the world.
DesktopAthan has prayer times for more than 6,000,000 cities in 252 countries and islands worldwide. It is fully customized to add any city in the world.
You can also get salat times for your location in several calculation methods.
DesktopAthan is a software that designed with usability in mind and is also very easy to use. It has a very attractive interface.
At the time, it is available in the following languages: english and russian.
Free download DesktopAthan software
DesktopAthan works with Microsoft Windows XP, Vista, and 7 and requires Microsoft Framework .NET 3.5 SP1.
Features of DesktopAthan
Salah timings
The software calculates accurate times of salat for millions of cities worldwide.
Add custom cities
Enter details of your city and DesktopAthan will remember them for you. Add custom cities with ease!
Eight calculation methods
DesktopAthan offers eight famous prayer times calculation methods so that you may be able to switch between them based on your personal preference and locality.
Using custom prayer calculation method
If the built in calculations aren't good enough for you, you can set custom Fajr and Isha angles to compute prayer times
Asr calculation methods
DesktopAthan has both standard (Imam Shafi', Hanbali, Maliki) as well as Hanafi method.
Coming soon
Authomatic athan sound at every prayer time
Interface themes support
Interface translation to other languages
Qibla direction